All the latest news and updates from the Bermuda Aquarium, Museum & Zoo, one of Bermuda's leading visitor attractions!
Reid, Dowling, Hill, Godfrey Awarded Scholarships
Wednesday, September 19, 2018
The Bermuda Zoological Society has selected the recipients of the Steinhoff/BZS scholarship and, for the first time, the Pye Scholarship, with Amber Reid, Ryan Dowling, Archer Hill and Jessica Godfrey all being awarded scholarships.
Mr. Robert Steinhoff, former BZS president, established the Steinhoff/BZS scholarship in 2009 to provide educational opportunities for Bermudian students pursuing a degree in environmental sciences at accredited institutions.
For the ninth consecutive year, the Steinhoff/BZS scholarship will be awarded, this year to two outstanding Bermudian students, Amber Reid and Ryan Dowling.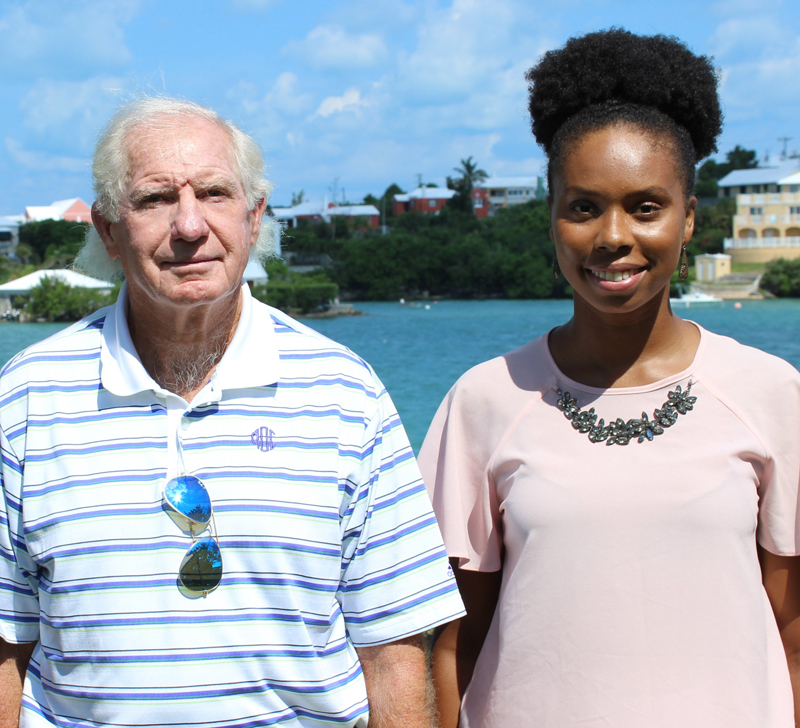 Robert Steinhoff and Amber Reid, Steinhoff/BZS scholarship winner
"Our scholarship program is all about empowering students with the opportunity to pursue their education and explore a future in environmental sciences," said Robert Steinhoff.
"We're incredibly proud to support these students as they take this next step in their journey to pursue their passions and explore their future career paths. Our hope is that they will use their knowledge to return to Bermuda and make a difference."
The Pye Scholarship has previously been awarded to support a summer internship at BAMZ for either a Canadian or Bermudian student.
In 2018, it was decided to award the monies to assist two Bermudian Students with their overseas expenses and fees in conjunction with the Steinhoff Scholarship. The Pye Scholarship is granted in memory of John and Karen Pye. The recipients of the Pye scholarships are Archer Hill and Jessica Godfrey.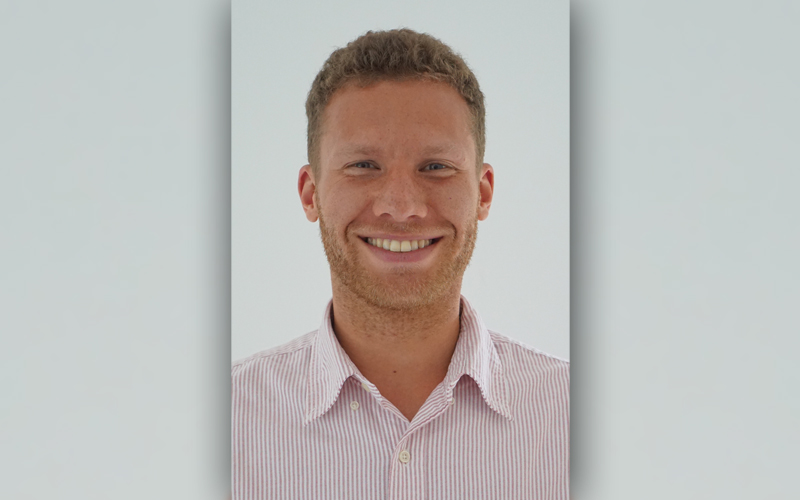 Ryan Dowling
"The Steinhoff Scholarship Committee were excited to see the number of enthusiastic and well qualified applicants for the 2018 scholarships," said Ron Lucas, co-founder of the Pye scholarship. "The successful applicants who received either Steinhoff or Pye awards will we are sure represent themselves and Bermuda very well over the coming academic year."
Amber Reid, who is currently studying Environmental Science at Northeastern University in Boston, MA, said, "I plan to work in the intersection of the environment, infrastructure and business leading toward a more sustainable future. I extend my sincerest thanks to the scholarship committee for making another great academic year possible."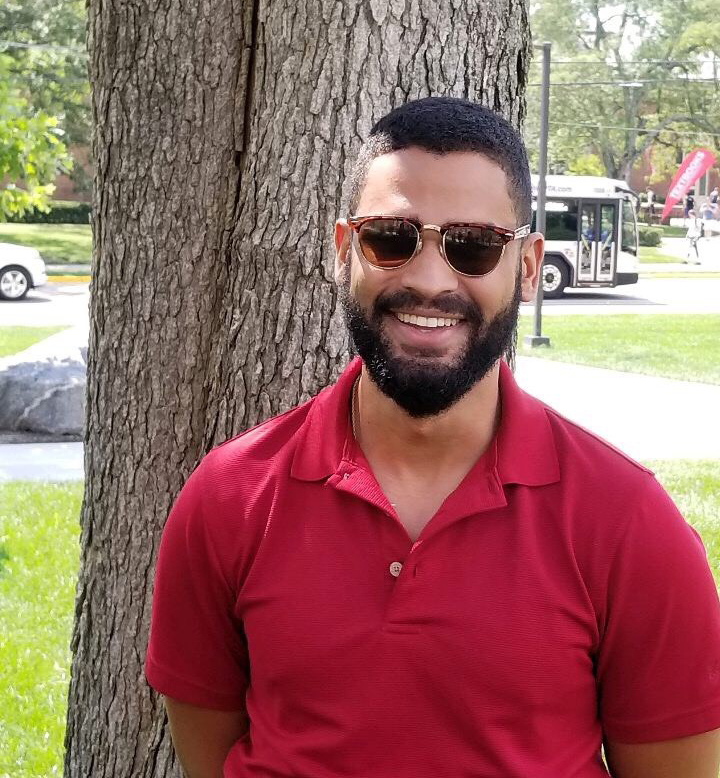 Archer Hill, Pye scholarship winner
Ryan Dowling is working towards a Master of Science in Carbon Management at the University of Edinburgh in Edinburgh, United Kingdom. "I aim to introduce low carbon and green investments to financial institutions in Bermuda, which I believe will play a crucial role in solving humanity's most complex challenge: climate change. I am grateful for the scholarship opportunity, and I look forward to supporting the Bermuda Zoological Society in the future."
Jessica Godfrey is currently studying for a BSc in Marine Biology at Newcastle University in England. "I am extremely grateful for this scholarship. I am currently unsure about what career path I want to take, however, I am sure that I want to return to Bermuda and help protect the unique coral reef environment surrounding us. Once I have decided on the specific area of Marine Biology I want to pursue, I intend to apply for a Master's degree in that area."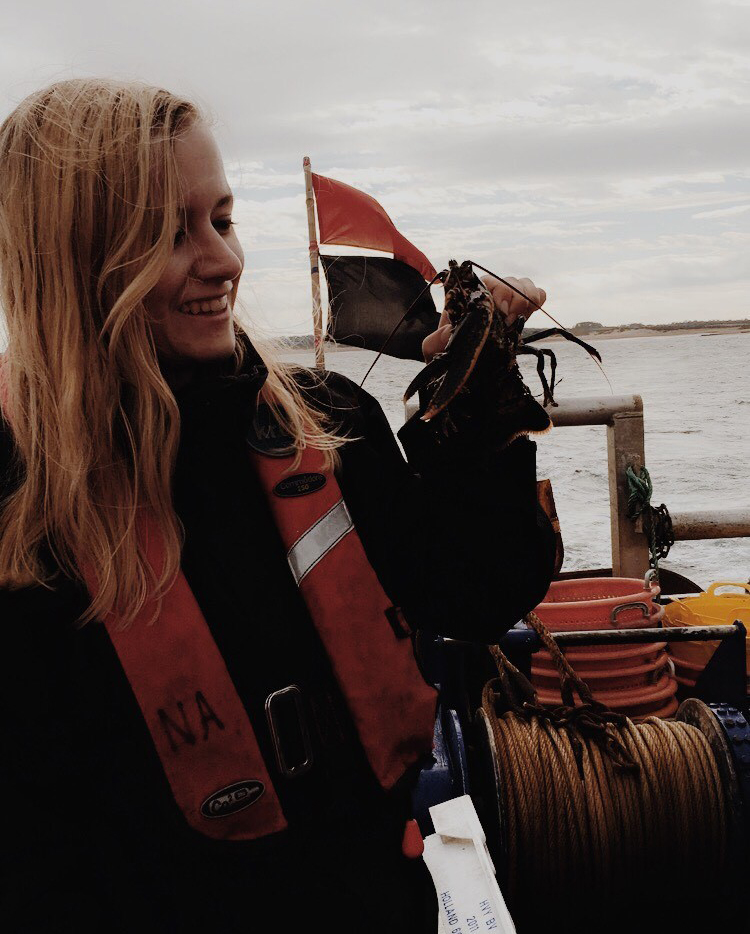 Jessica Godfrey, Pye scholarship winner
Archer Hill is studying towards a Master of Environmental Science degree at Miami University of Ohio, with a focus on Climate Change and Energy. "I plan to work in science journalism, and more specifically to report and write about environmental issues that directly affect us all, especially in Bermuda.
"I hope to return to Bermuda, if not directly after my degree, following a few years of professional experience abroad. I'm very grateful for this assistance and honoured that the committee has faith in my commitment and abilities. This scholarship will certainly be a massive help with getting my studies and expenses paid for this upcoming year."
Dr. Ian Walker, Principal Curator, shared: "The BZS is grateful to be able to provide these two scholarships to worthy candidates because of the generosity of the Steinhoff and Lucas families. Without their foresight these awards would not have been possible.
"All four recipients are exceptional and impressed the scholarship committee both academically and with their dedication to their educational goals. We wish them every success in the coming year. Our long term hope and vision is that these and former recipients will return to Bermuda to use their knowledge to promote and protect our natural environment."